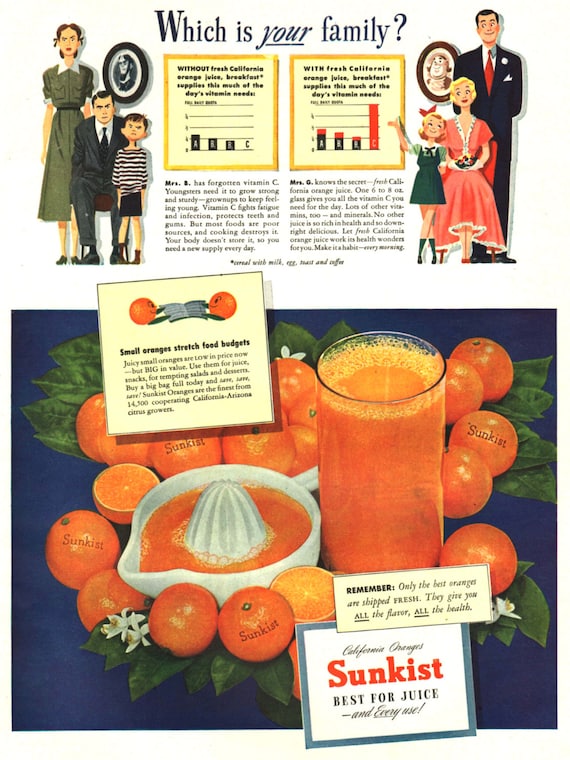 They say breakfast is the most important meal of the day. Looking over the table this morning at the carton of orange juice I was reminded that it's specifically the most important meal for Marketers, like us.
You see, back in 1907 the California Fruit Growers Exchange (CFGE) had a problem on their hands. Too many oranges, too little demand. Hiring legendary ad agency Lord & Thomas (home to Albert Lasker, considered by many to be the father of modern advertising) a three-prong solution was arrived at:
Better Branding — Rather than using the sterile and somewhat Byzantine sounding acronym CFGE for the citrus co-op, Lasker and company unified the separate growers under an evocative, freshly trademarked name: Sunkist.
Better Offer — Premiums, like free cutlery sets on purchase, were used to such great effect that CFGE/Sunkist was once the largest distributor of flatware on the planet.
A Major Brain Change — Most importantly, the advertising and marketing team created a new raison d'être for the existing, low-selling product: Orange juice. The morning breakfast ritual would never be the same — and more importantly the average daily serving by citrus consumers would quickly skyrocket from half an orange to two and a half.
The AdSpace team keeps lessons like this in mind when proposing our creative services. There are the structural and transactional frameworks for direct response circulation promotions and best practices regarding presenting the offer. But there is also that third, necessary ingredient that builds interest and lifts response in a way that is as unique in all the world as your own publication's editorial content: The Major Brain Change.
We do our research and brainstorm. Here are some industry examples of successful brain changes:
The Wall Street Journal's top-performing "Two Young Men" sales letter tells the tale of one recent college graduate who subscribed and went on to C-Suite-level success and his classmate who missed out on a great deal and a brighter future.

Humbly, I submit my own: "With WeightWatchers magazine it's not just what you lose… it's also everything you gain," a theme line from years back — it has since been borrowed by every health product under the sun.
So, just like you feel off all day and lacking concentration when you skip breakfast, your print and digital acquisition campaigns will be equally anemic without a hearty helping of consumer brain change.
Present your periodical in a new light… In a way that is as novel as it is targeted to the prospect's existing as well as yet-unknown needs… And dig in armed with this bit of marketing history under your belt.